Are you experiencing neck pain?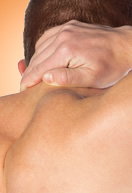 Don't suffer from neck pain any longer. Our therapists are experienced in all the latest treatment options to help you. Download our free Neck Pain Guide and call one of our convenient clinic locations to book your free assessment today!
Get your free neck pain guide!
We require some basic information to send your free guide. We promise to take your privacy seriously and will never share or sell your personal information. For details please read our privacy policy.